In the past, imprinted concrete was usually limited to a mason scoring a flagstone-like design freehand, or embedding sticks, leaves and even coffee cans into the surface to achieve a desired effect.
Today, the leading edge of concrete is a process called pattern-stamping.This process involves "stamping" or "impressing" three dimensional patterns into colored concrete with special stamping tools. When the stamping is complete, the product is then sealed, highlighting the colors and providing greater stain and weather resistance. The result is a surface that combines the beauty of masonry with the durability of concrete.
Some of the most common pattern choices include but are not limited to: slate, brick, granite, cobblestone, tile, flagstone, seamless texture, and more. It is also a common practice to use multiple patterns and colors together with custom bandwork, edges, and centerpieces. Like all forms of decorative concrete workmanship, the design choices are only limited by your design tastes and your concrete contractors skillset.
Palermo Concrete Inc. uses many different stamps and more stamps are made available all the time. Below are a few of our most popular stamps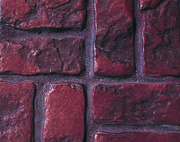 Belgian Basket Weave
Euro Fieldstone
Grand Slate
Flower Rock
Large Random Flagstone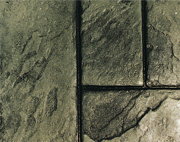 Notched Olde English Ashlar Slate
Olde London Mermaid
Old English Slate
Olde English Sidewalk Slate
Running Bond Used Brick
Wood Plank